December 21, 2017
Category:

Uncategorized @vi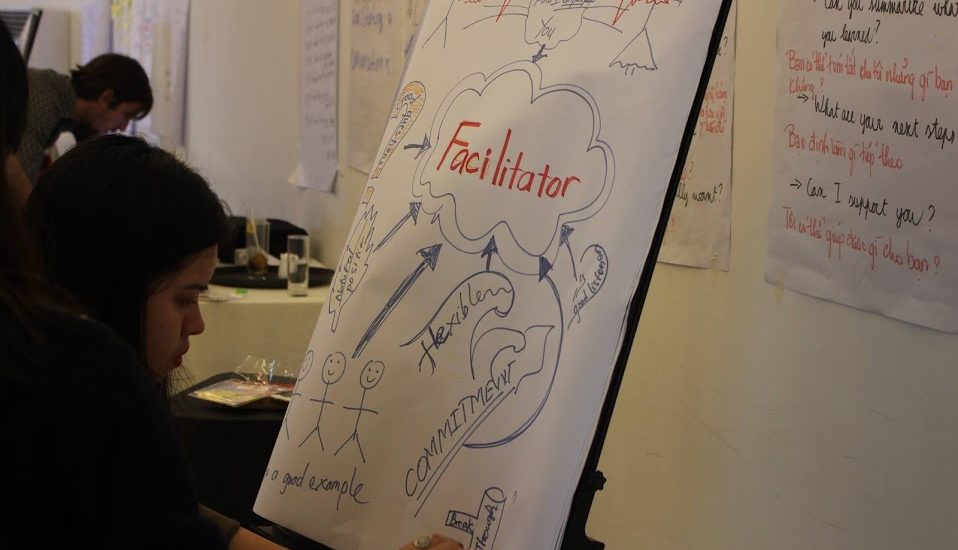 Grab your opportunity to participate in EOW Scholarship:
Facilitation Training Program 2017 to boost your understanding and skills
in active learning method and shine up the leadership in yourself now!
_________________________
EOW SCHOLARSHIP: FACILITATION TRAINING PROGRAM 2017, funded by EyeOpenerWorks, sponsors people who are working in education – related field, especially staffs of training department in a company, professors of universities, teachers, trainers of schools, skills centers, NGOs and youth leaders to develop skills in training and education in a non-formal way. With experienced trainers from Holland and Vietnam and an active, international environment, you will have a precious chance to learn how to become a good facilitator to leverage the resources of group members. All EyeOpenerWorks active learning interventions are designed and developed to be participatory and engaging. Our approach is built upon learning by doing and appreciative inquiry. Instead of telling people what to do, we engage them through active participation in exercises, games, simulations and real-life experiments. By asking questions we tap into existing wisdom and build upon what is already there. EyeOpenerWorks pays significant attention to reflecting on its training exercises, allowing participants to share the lessons learned and apply their insights to real-life situations.
EyeOpenerWorks' Facilitation Training Program focuses on:
– enhancing facilitator skills
– designing attractive and participatory training courses
– developing easy-to-use and effective curricula
Objectives of the program
Being a facilitator of a session is one of the most exciting jobs one can have. Participants in your session signed up being very curious about what they can learn or contribute. They hope for an inspiring and fruitful session that broadens their minds. They anticipate a session where they will be motivated into action… Now it all comes down to you to create a great session! Their diversity in hopes, challenges, levels and personalities makes your task even harder. Are you ready for the challenge?
It is up to you to create an environment that is conductive to learning; to create a safe space where people are willing to share what is really on their minds; to build an atmosphere that challenges the participants to go beyond their usual patterns. How do you do it?
We work on a basis of learning by doing, which means you can expect to practice, gain valuable feedback and experience how you can develop your weaknesses and build on your qualities such that you can find your true voice as a facilitator.
In this training for facilitators , you will learn to understand and influence group-dynamics, design top-notch programs that keep the energy up, create a personal vision on the meetings you are facilitating and learn what it is that makes sessions worth your while.
Outcomes of the program
Participants are expected to gain these benefits at the end of the program; 1. Understand the values of a good facilitator 2. Understand the tools and knowledge to become a facilitator 3. Know how to design the training agenda in facilitation method to meet the need of the organizations and participants 4. Develop the network of people working in training field and passionate in education 5. Receive the certificate of EyeOpenerWorks and join EOW International Facilitatator Network Moreover, participants are also expected to deliver a training course in facilitation method in his/her own organization (under the support of EOW coaches) and share the training results in his/her organization fanpage, websites and tag EyeOpenerWorks Vietnam
* Duration: 26/06 – 28/07/2017
1. Fundamental Training: 26/06 – 27/06/2017 (Full day)
2. Coaching for own training program: 28/06 – 02/07 (Flexible time between coach and coachee)
3. Additional Training: One day between 03/07 – 09/07 (Decided by the participants)
4. Delivering your own training: 10/07 – 16/07 (Delivery requirements will be announced after the fundamental training)
5. Graduation Day:One day between 17/07 – 23/07 (Decided by the participants)
* Numbers of participants: 25 people
* Location:Soci Hub, No.16A, Van Minh Alley, Lane 169 Doan Ke Thien Street, Cau Giay, Hanoi
* Fee:
— All trainers fee of the program will be covered by the organizers.
— Participants shall pay 1,000,000 VND, in which:
+ 500,000 VND: the stationery cost
+ 500,000 VND: The deposit which will be refunded when the course is finished provided you do not have any absence from the course and complete your own training course in your organization.
—- Participants are responsible for their own transportation to training venue, accommodation and lunch during the training period.
 Trainers ____
Mr. Henrik Looij – Life Coach; Founder at EyeOpenerWorks; Master of International Development Studies
Henrik is passionate about life- and entrepreneurial skills in a 'glocal' world. He has a background in scientific research (Human Geography and Planning) and in training/coaching. Work experiences and contacts in over 20 countries are a continuous source of inspiration for who he is and what he does.
Next to consultancy work he is currently partner in four social enterprises. 
It is his strong believe that everyone can do something to change the world for the better, it's just a matter of beginning. 
Specialties include social and sustainable entrepreneurship, life skills training and coaching, youth organization, international development cooperation, sports and development, participatory monitoring and evaluation.
Mr. Nguyen Doan Huan: Co-founder of EyeOpenerWorks Vietnam, Manager of I COMMIT Program
Huan has 8 years working in Youth empowerment and capacity building. He has delivered more than 200 training courses for nearly 5000 participants. His passion is that he would like to work with young people for their personal growth together with social changes.Huan has attended many programs and workcamps in Vietnam and other countries as a partcipant, trainer, facilitator: Intercultural Approaches to Environmental Sustainability in Cambodia and Thailand; Empowering Youth Leaders With Tools for Europe-Asia Volunteer Management; MTV( Mid Term Volunteer program) in Finland; Non-formal Education Methods in Estonia ; I COMMIT1 in Vietnam; YSEALI Program (US Embassy) and Active Citizens Program (British Council)
Mr. Nguyen Ba Tung: Co-founder of EyeOpenerWorks Vietnam, Founder of Ancoric Team Building Company
Tung has more than 10 years in team building activities and coaching. Tung also has coaching certificate of ICF (International Coach Federation). His passion is that he would like to work with organizations and companies to help them find the comprehensive solutions to develop and grow. He has delivered many meaningful programs to a lot of famous companies and groups such as: MISA, Nam Cuong Group, Vin Group, Tasco, Delta….
Ms. Nguyen Anh Thu: Co-founder of EyeOpenerWorks Vietnam, Master of Project Management
Thu has more than 3 year experience as a facilitator. She is also the national facilitators of Active Citizens Program (British Council) and the founder of a social education project – Green Seeds Project. Since 2014, Thu has delivered more than 30 training courses for nearly 2000 participants. Thu is a multi-skilled development practitioner who likes to challenge herself in various fields. She has had work experience with both private company (VNP Group – Soft skills Trainers) and NGOs (CSDS, BC,….)
Application process
Round 1: Application Form Selection
Submit your application no later than 12pm, 15/06/2017 through this link:
https://goo.gl/UDfqXK
Round 2: Round 2: Personal Interview on 19/06/2017 through skype
Only candidates who need to provide further information will be invited to join the interview
 Contact
Ms.Thu – Organizer: 090.626.9891 – Email: thuna.greenseeds@gmail.com
Mr. Huan – Organizer: 0169.359.1753 – Email: huan@eyeopenerwork.org